Longing for Native American culture
I got interested in Indian Juary when I was in high school. At the time, I attended a high school, which was famous for being quite free-spirited, so I had no restrictions on what clothes I wear and of course what jewelry I wear.
At that time, I was mainly interested in stone and Native American culture rather than silver accessories. Not to mention turquoise, I was attracted to coral, buffalo skull and war bonnet. Inspired by the story of one of my best friends actually going to Indian reservations, I have to live like an Indian who thinks about his offspring seven generations ahead and acts! I remember thinking that.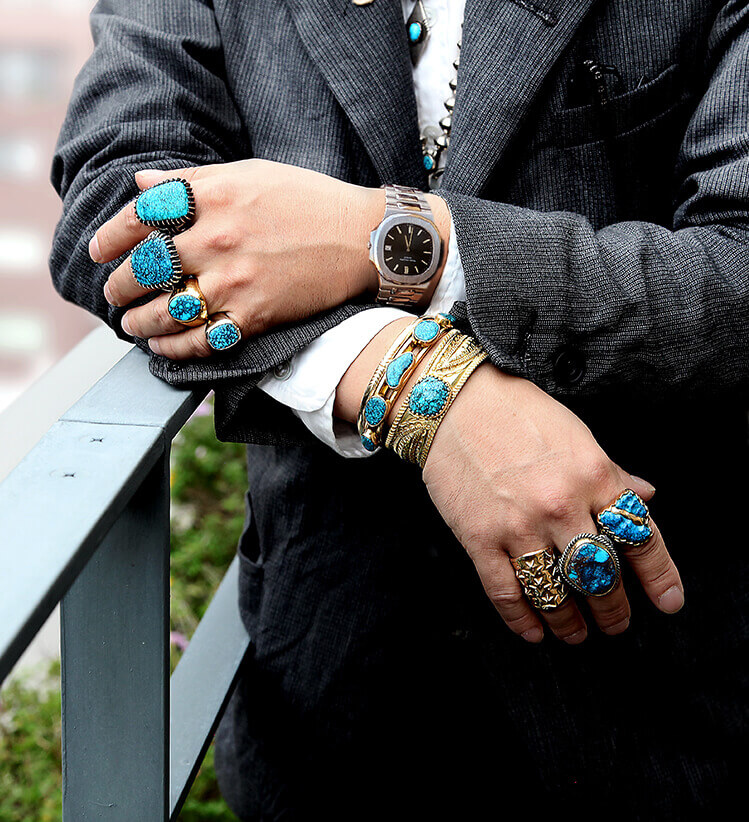 After graduation, I haven't really understood even one of the essential things, such as thinking about the future of the earth together with my friends, farming and protecting the earth, but I just have to do something simple. .. With such a strange sense of mission, I was holding a self-screening show of subculture-like movie works. Among them are "Earth Symphony" and "Hopy's Prophecy". At that time, I met Hopi elders Martin Gesuismer and Dennis Banks.
In particular, we asked Martin Guethuismer to give us a lecture at the university, and he was very helpful. As he was with us, he looked like a traditional dress, and thought he was purely cool, so he bought Hopi jewelry in Shimokitazawa a few days later.
Following the Navajo ritual
After that, a Navajo medicine man came to Japan on an extension of such connection and performed a ceremony called Swet Lodge at a certain place, so I participated in it. It is a ritual in which rocks heated in a large fire pit are placed in a small tent made of willow branches and leather, and sage is boiled in water in a sauna.
This was pretty rigorous and well done for more than two hours, so I was completely conscious and finally fainted. However, the experience after that was wonderful, and Navajo was amazing at that moment! It led to a simple development such as.
After that event, I began to actively collect Navajo jewelry. It's so short-circuited that you can laugh. At that time, it was a bad era when it was still sold as Navajo in both Fred Harvey and Peshrakai, but I think there were still some good things.
I don't have anything I bought and wore with me, but I think I had a bunch of Mark Qi's and a ring of Julian Lovato's triple setting.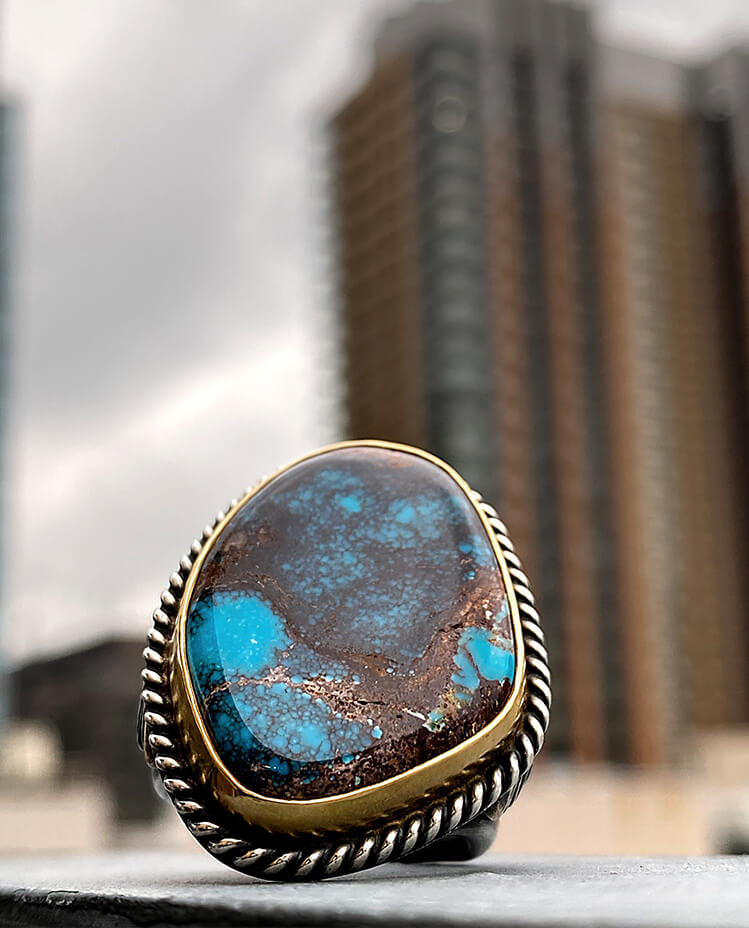 Unexpected encounter with Mr. Kodera
After that, I decided to work in San Jose because of my work, so I could extend my legs and buy an Indian jewelery there. In addition, after the formation of what seems to be an Indian diary industry has been formed to some extent in Japan, I have finally begun to collect at mines and artists.
However, as always, I was struck by the information of magazines and the information of specific stores, and eventually I bought what I wanted, not what I really wanted. From around that time, I started seeing dark-skinned Japanese turquoise dealers, who often wore glasses that appeared in Indian Mook books. Of course, Mr. Kodera. However, at that time, I had already been disciplined in turquoise and jewelry, so I had no choice but to stay as close as possible.
And a few years later, it turned out that my wife had gone to and from Skystone Trading in Karuizawa without knowing it, showing us special number eights and Lone Mountain.
One day, when I tried to go out with a ring with Ukiuki and Marco Bigey's Lone Mountain, he said, "There are more wonderful stones in Karuizawa." At that moment, hey. I know it, even though I am competing. What you want to say is not that store, but that store. So, while repeating in my mind many times, I spent the whole day without looking up at Marco Bigey's ring.
And fate finally brings us to meet Mr. Kodera at Barneys New York in Ginza.
Experience a quality different from the others
Nowadays, I am surprisingly becoming a "coder", but for me, who was originally pursuing stones more than writers, Kodera's quality of stones and peace of mind I think it is an irreplaceable value that no other store has.
In addition, I can say that it also goes well with my favorite writers such as McKee Platero and Ernie Lister, and it is because it is comfortable to wear and knows the goodness of the stone from corner to corner. I feel that the presence as a work is wonderful.
I wear Kodera works almost every day, but as everyone says, I realize that when I pursue a stone, I end up becoming a modeler.